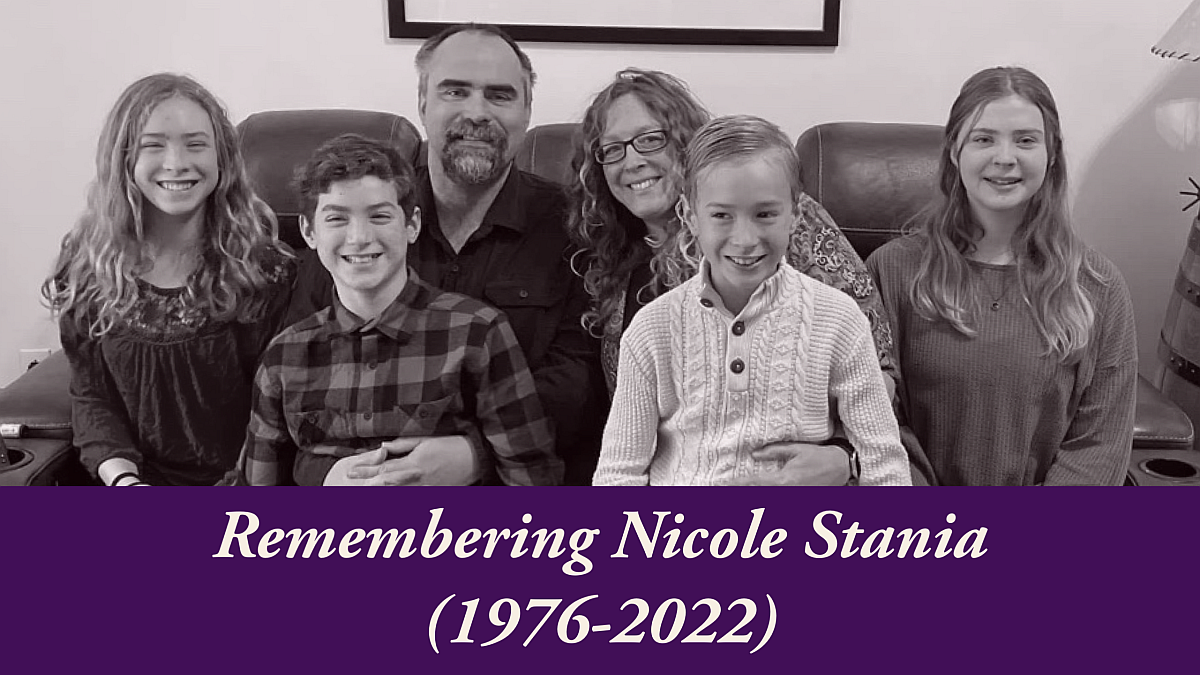 On December 14th, Nicole Stania suddenly passed away at her home of unknown causes. We grieve deeply with her husband, Matt, who she had been married to for 14 years, and their four children: Shannon (13), Mattalyn (12), Silas (11), and Nathaniel (9).
Matt, Nicole, and their family came to Restored in 2014, and have been highly involved in our ministry ever since. Nicole was a gifted counselor and served hundreds of individuals and couples in the counseling room over the years. Nicole meant so much to so many people in our church family, and we are so grateful for the impact she had on so many of us during the past eight years!
For those who are looking for ways to help, serve, and support their family in tangible ways in this difficult time, there are four main ways you can help:
Prayer – Pray for their family as they grieve & heal in the coming days, weeks, months, and years.
Celebration of Life – To honor Nicole's life, legacy, and impact, there will be a Celebration of Life Service, Wednesday, December 21st at 6:30pm at Restored Church (74 S. Meade Street, Wilkes Barre, PA 18702). At the service, there will be a Remembrance Board where you can bring and post a printed picture of you & Nicole and/or post a note or letter sharing how much Nicole meant to you for Matt and their children to read at a later time. We will also Live Stream on Restored Church's Youtube Channel for those who are unable to attend in-person, which you can find at the link below.
Financial Support – Their family has a number of current, future, and on-going financial needs as they navigate the difficult realities of this situation. To help and support them financially, you can give online at the link below to a dedicated fund that we have set up for them. 100% of the money that you give to this fund will go directly to their family.
Meals – If you would like to make a meal or send Gift Cards for food deliveries, you can sign up or send something through the link below.
Because of Nicole's faith in Jesus, "We do not grieve as those who have no hope," but we do still grieve deeply in this time. We are grateful that Nicole knew Jesus, clung to him, and is with him right now.
For any specific questions, please reach out to Pastor Tim Walker at tim@restoredchurch.org